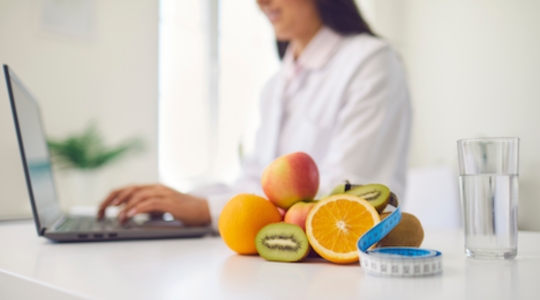 Nutritional consulting services are in increasing demand. Whether it's for prevention, optimizing your lifestyle or managing a health condition, consulting a registered dietitian nutritionist can help you. How can you budget for this service?
Meeting with A Dietitian or Nutritionist
Nutritional Assessment
During this initial meeting, the nutritionist analyzes all kinds of information in order to understand your personal situation. This meeting will help to better understand your needs, to establish initial objectives and to determine a game plan in collaboration. This is a longer meeting that usually costs $125-160.
Follow-Ups: the Key to Success
These meetings allow you to go deeper into specific subjects relevant to your situation, find solutions to the barriers you have encountered and stay motivated. Your nutrition expert becomes your ally during this process. You should plan on spending 90-120$ for these meetings.
How Many Meetings Are Needed?
There is no single answer to this question, as each client's situation and goals are different. As a general rule, a minimum of four meetings is required as a base for most situations. There are so many interesting things to discuss in nutrition, you can't see everything in one meeting! In all cases, your health care professional will adapt to your budget and your reality to create a customized nutritional plan.
Are Registered Dietitian Services Covered by Insurance?
Good news! Most private insurance companies cover the services of a nutritionist-dietitian in their health insurance plans. If you have private insurance, it is therefore possible to obtain reimbursement for some or all of your nutrition consultations. If you do not have private insurance, you can also receive a refundable tax credit for dietitian services since they are provided by health professionals.
If Dietitians/Nutritionists Are Not Covered by Your Health Benefits Plan
Fortunately, it is possible to have coverage for dietitians added to your benefits through your employer. It is possible to add extended health benefits, sometimes at no extra cost!  You can find an information sheet to share with your union and employer here.
A Profitable Long-Term Investment for Businesses
Nutritional counselling can be a significant investment. However, it is sometimes possible to receive a credit from the government and the process will save you money in the long run. In fact, it is estimated that every dollar invested in nutrition services saves $4 in medication costs and reduces health-related productivity losses by up to 64%. That's not even counting the savings your nutritionist will make at the grocery store once you become an expert at planning!
Finally, if you want to start this process but still have questions, you can talk to one of our Appointment Coordinator by contacting us. We look forward to seeing you in consultation!
Reference:
Guillaume Couture, NUTRITIONIST - DIETITIST COVERED BY MY GROUP INSURANCE? HOW? Spotted at https://equipenutrition.ca/blog-nutritionniste-dietetiste/nutritionnist…